Semen Cardona has always advocated (supported) that building reliable partnerships is key to build a better future. Collaboration between companies not only allows to strengthen ties between them, but also reinforces those companies that come together at all levels. One of the companies that Semen Cardona is pleased to collaborate with is Pig Improvement Company (PIC).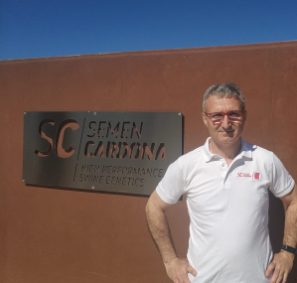 PIC is a company belonging to the Genus Plc Group. It is a world leader company in the application of scientific advances, in biosecurity for animal production and in the sale of added value through genetic improvement. Operating in more than 75 countries, it is a multinational of great weight in the pig sector, which decided to join Semen Cardona – another leading company in the production and commercialisation of seminal doses- to develop a project such as GTC Tarazona, which they manage together.
To learn more about this success story, we spoke with Isidro Sánchez, Semen Cardona, Manager of AI-Stud Tarazona and Eduardo Rodríguez-Sierra, PIC, Key Account Manager of the GTC Tarazona business unit (Genetic Transfer Center).
How did the idea of building GTC Tarazona came out?
Isidro Sánchez:
The management of both companies (PIC and Semen Cardona) concluded the need to have an exclusive centre with PIC genetics that would meet the highest biosecurity standards and the most advanced technology in the market. From that conviction, the management involved us technicians in the search of possible locations that could meet those requirements. It was not easy; several possibilities had to be ruled out because they did not meet those minimum biosecurity standards PIC required, but finally we found this location in Tarazona, complying with the minimum required distances from other production units and not too far from important communication nodes. It was the perfect location.
Eduardo Rodríguez-Sierra:
PIC's vision is to collaborate in the success of its clients by increasing their efficiency thanks to continuous improvement and the use of technology in a responsible way. Semen is a vehicle to deliver this genetic improvement, easier to transport than animals and with less sanitary risk. PIC was clear that it wanted to go directly to the producer -at least in the maternal lines- and Semen Cardona perfectly fulfilled the characteristics of the partner we were looking for. From that point on, and already working together, we needed a safe location at a sanitary level (it had to pass a strict location assessment by PIC) and logistically adequate to reach the main production areas in Spain.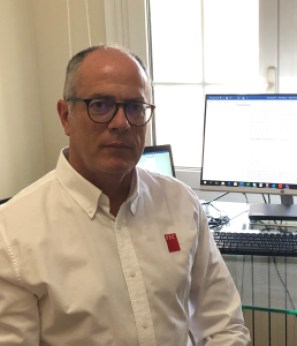 What makes GTC Tarazona different from others GTCs?
Isidro Sánchez:
Exclusivity. I think this would be one of the words that defines it. Not only because it houses only PIC animals, but also because of their genetic value and the high degree of replacement that is done to maintain a genetic improvement that, until now, was very difficult to find elsewhere. If, on top of this, we add the highest degree of biosecurity, the technical endowment of its facilities, the specialisation of its manpower and the surveillance by a large first class technical team, we end up with a GTC that in few years will improve the genetic level as it had not been done in previous decades.
Eduardo Rodríguez-Sierra:
There are several reasons that explain why Tarazona is a PIC exclusive centre, but the most important is that it houses the males of pure lines that will serve the most valuable farms – such as the nuclei of PIC and the multiplication farms of our clients – for the success of the productive chain. We are talking about high health status farms, for this reason biosecurity requirements are very important: distance to other farms; prohibition of visits; individually filtered buildings with MERV16 filters; shower in and out procedures in each warehouse and laboratory; blood and semen sampling several times a week; health monitoring by a recognised external vet consultant; and a PIC team dedicated exclusively to sanitary control.
Animals in Tarazona come from PIC nucleus farms with the highest genetic and sanitary value in Canada, Germany, Denmark, and the Czech Republic. Transport used to bring those animals meets strict biosecurity measures and animals are isolated and controlled in quarantine premises before entering the GTC by the PIC Health Assurance team.
What is the key to success for the good understanding and benefit of both companies in a project as complex as GTC Tarazona?
Isidro Sánchez:
Trust. Knowing that both parties are giving their best in each one of the areas: management, administration, logistics, technical services, all …
Eduardo Rodríguez-Sierra:
Success in this kind of project arrives when each company provides a different added value but keeps focused on a common benefit. This reflects in our project through the experience of Semen Cardona with so many years outstanding in the AI sector and with distribution routes throughout Spain; and, on the other hand, PIC providing genetic management and its experience in biosecurity and Health Assurance. Both companies seek a common goal, which is offering customers a product of the highest genetic quality, health safety, traceability and quality controls that ensure optimal results at the lowest cost.
How would you describe the synergies between the two companies?
Isidro Sánchez:
Clearly positive! We complement each other perfectly, communication flows in a way that makes us anticipate to possible problems finding and implementing solutions in most cases before they even appear. Contact is permanent at all levels and all our clients benefit from it. Since the GTC started being operative clients have experienced a constant improvement: better customer service quality, genetic improvement, traceability, logistics, assistance …
Eduardo Rodríguez-Sierra:
The partnership of the two companies allows us to reach more customers in a more effective way and with a product of the highest quality; each company strives to optimise its area of responsibility with open and transparent communication. We regularly hold follow-up meetings where technicians from both companies participate and discuss the results and proposals for further improvements.
What flourishes from initiatives or alliances between companies as important as Semen Cardona and PIC?
Isidro Sánchez:
Integrating two giants of swine production such as Semen Cardona and PIC results in an alliance that will have the most impact on the benefit of its customers. Through this GTC, PIC displays all its genetic experience and trajectory at the service of the market throughout southern Europe. Knowing that our GTC will count with a constant renewal of its genetic lines by using the highest available values of all the genetic nuclei that PIC owns all over the world. Semen Cardona's experience in the production, marketing and distribution of seminal doses. With this partnership a new concept of genetic synergy is born.
Eduardo Rodríguez-Sierra:
Semen Cardona is a renowned company, that knows the Spanish pig sector from the Artificial Insemination approach and has experience in logistics including the shipment of doses internationally; those assets are of great value for PIC since from GTC Tarazona international shipments are made frequently.
Likewise, PIC counts with more than 100 people in the Technical Service, Quality and product development teams and collaborates with more than 450 GTC around the world. The great experience of the renowned PIC experts means that, together with Semen Cardona, we work with the most advanced techniques and the most demanding quality standards.
Together we participate in projects such as the ANPS Operational Group whose objective is to define a quality standard in production processes, and to establish minimum requirements that doses prepared by AI centres in Spain must meet. For the execution of this innovative project, a co-financed grant has been awarded (80% FEDER -European Fund for RURAL Development- and 20% MAPA -Spanish Agricultural Ministry-).
What is the system for working together? How do both companies complement each other?
Isidro Sánchez:
At Semen Cardona we do what we have been doing for more than 30 years: managing AI centres. Reception of orders, seminal extractions, analysis, packaging, logistics … At PIC they take care of everything related to genetic improvement, indicating us what lines and genetic indexes each client demands. Our job in Semen Cardona is to integrate these demands and make the development of the centre flowing in favour of the client. We keep constant contact and meetings to stay on track, and we also count with a third independent party -both for semen analysis and veterinary management- that help us to refocus in case of deviation from our objectives.
Eduardo Rodríguez-Sierra:
Semen Cardona takes care of the day to day, which is not a small matter in this business: receiving orders, organising logistics, producing doses, sending samples for quality and health controls, distributing doses during the night so clients have fresh semen the next morning… Additionally, Semen Cardona takes care of the reception of new animals in quarantines and loading of animals after they have completed their production cycle to slaughter, both under strict biosecurity measures.
PIC supervises all these procedures under its quality standards: control of weekly blood sampling results, water, semen and diluent samples tested in independent laboratories, control of biosecurity measures regarding staff, transport and suppliers. It is a PIC standard to have health controls supervised by an independent veterinarian of recognised prestige, with the aim of assuring and providing confidence to customers. PIC selects the best animals for replacement; decides which animals to cull and replacement to be carried out according to the expected demand of each line; carries out monthly controls of the genetic level of the stock so that we always disseminate the greatest genetic progress to customers.
Would you think that future of swine production will see more of these collaborations?
Isidro Sánchez:
Swine production is increasingly competitive, and it is inevitable that companies will join forces to take on new challenges; by doing so, companies boost the results that they could achieve independently.
Semen Cardona continues to provide the best semen dose production service that can be found in southern Europe, and now also has all of PIC'S genetic power to put it at the service of its customers. Swine production finds its improvement by having at reach the best genetic indexes, no matter from what part of the world, and this partnership has made it happen.
Eduardo Rodríguez-Sierra:
Pig industry is no stranger to global trends, and genetic spread companies require ever-larger populations and investments and great specialisation to be successful. Partnerships allow each company to give the best of itself and form a team that may apply for the most demanding objectives.
What challenges does the swine industry face and how can these partnerships help to face them?
Isidro Sánchez:
Challenges are there, the whole pig industry knows them. Biosecurity, globalisation, animal welfare, more restrictive laws… Our companies have some of the best valued technicians in the world. We are all in constant training to anticipate new challenges that will come to us; we attend the most prestigious congresses around the world with the intention of anticipating changes lying ahead. The only way to deal with changes is to place yourself ahead of them.
Eduardo Rodríguez-Sierra:
Swine industry is continuously facing challenges: animal welfare, reduction of antibiotics, health crisis, farms with less environmental impact … but at the same time, great competition in international markets where only those offering best quality will survive, but at a competitive cost. Clients' confidence in our service and our products means that they can focus their efforts on other issues that allow them to improve their competitiveness.
Are new collaborations between the two companies expected in the future?
Isidro Sánchez:
At least to date, the experience is very positive. Given the volume of work we have in our centre and the level of satisfaction of our clients, this GTC Tarazona project might soon become too small and a new one will have to be implemented in another location, so both our companies can keep guaranteeing the service that our clients deserve.
Eduardo Rodríguez-Sierra:
There is no doubt that both, PIC and Semen Cardona, are companies willing to grow. If swine industry in Spain keeps it expanding pace, it will favour the creation of new projects and I hope that both companies will continue to be encouraged to collaborate once again in the future.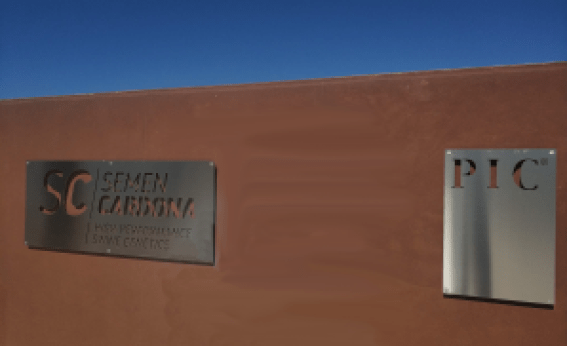 More about Semen Cardona: