Susanne Mustard was unveiled as the winner at a virtual ceremony, hosted by TV presenter Mark Durden-Smith, on Monday, November 16.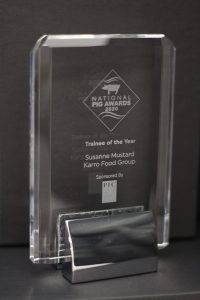 Having completed Karro's senior stock worker and unit manager courses, coupled with her Glasgow University degree in Veterinary Bioscience, Susanne took over the management of a 1000 sow outdoor unit, where her training and enthusiasm quickly resulted in significant improvement in the unit's KPIs.
Now in their seventh year, the National Pig Awards are staged annually by Pig World and Lewis Business Media to recognise excellence and innovation in the pig sector. This year was slightly different as, rather than the usual glittering ceremony, the winners of the 14 awards were announced online. But this did nothing to diminish their achievements, nor the wider recognition from their industry peers, according to Pig World publisher Simon Lewis.
He said: "Congratulations to Susanne Mustard, who was the deserved winner of this award. Once again, these awards have highlighted the fantastic work being done by individuals and businesses across the pig sector. The winners and, indeed, all those shortlisted, are setting a great example for others to follow."
This year saw a record number of entries submitted. Head judge Stewart Houston said the volume and quality of entries highlighted the determination of the industry 'to get on with the job and keep pushing the boundaries', even during this most difficult of years.
"Congratulations to all the winners, who each managed to demonstrate something different and special about their businesses," he said.